| | |
| --- | --- |
| | |
Summary
Features
Specification
The Wake-up Light wakes you up in a natural way, enjoy the sunshine every morning!

Natural sound wake up light function : light becomes stronger and stronger from 0,15,30,45,60,75,90mins until the time pre-set, like the sunset.
FEATURES:
1) Wake up light clock radio
2) 24/12time display,year,month,day,display
3) FM auto scan radio
4) 5 nature sounds function help you sleep.
5) Alarm clock alarm in 3 ways,can set alarm at the favorite radio station,nature sound,and 9 music
6) Blue or Orange backlight for your choice
MAIN FUNCTIONS:
1) Wake-up LED light (sun rise): it turns itself up before the alarm clock rings and gradually brightens up during the period set beforehand
2) Go-to-sleep LED light (sun set): set the light-off time when the light is on; go-to-sleep light trns itself down until it is off as set in advance
3) Perpetual calendar: shows time (in 24 hours or in 12 hours)
4) Alarm clock:
5) Pre-set light on (sun rise): light can be set to brighten up at the exact time the clock starts to ring or ahead of the alarm time by 15 minutes, 30 minutes, 45 minutes, 60 minutes, 75 minutes, or 90 minutes; intensity of light, which is divided into ten levels, begins to increase evenly as scheduled
6) Pre-set light off (sun set): light can be set to turn down from now on or in 15 minutes, 30 minutes, 45 minutes, 60 minutes, 75 minutes, or 90 minutes until it is off; intensity of light, which is divided into ten levels, begins to decrease evenly at pre-set time until it is off
7) A press at light enters into setting up of sun rise mode. The sun rise logo is visible and the minute says 0, Press up or down to choose between 0 (off), 15, 30, 45, 60, 75, and 90 . One more press at light confirms the current mode and goes into setting up of sun set mode
8) Can see the sun set logo and the minute says 0,Press up or down to choose between 0 (off), 15, 30, 45, 60, 75, and 90, Another press at light reserves the current mode and quits at the same time
The real sample photos: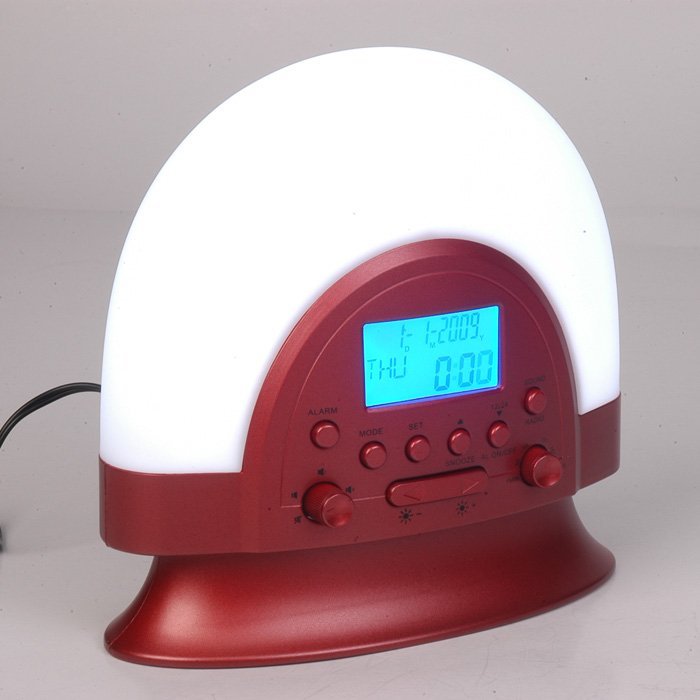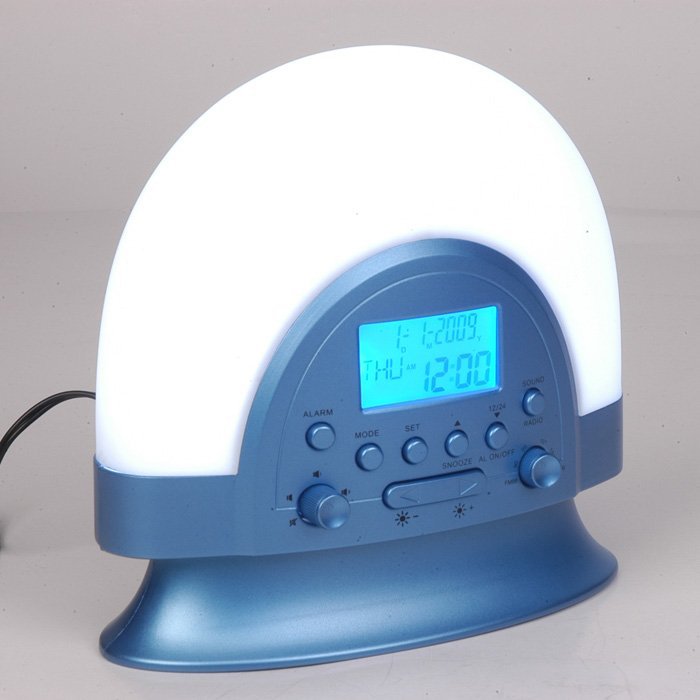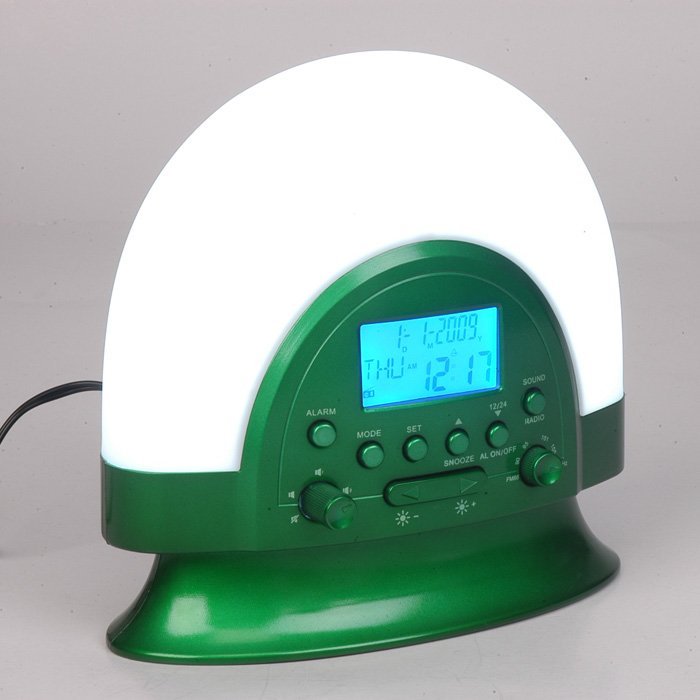 Specification :
-Out put 60W
-Voltage AC110V or AC 230V
-Frequency 50Hz/60Hz
-Lamp life 1000 hrs
-Cable length 1.8M
Package: Color box same as customer's design
Unit size:16 x 15.8 x 7.6 cm
CTN size:58.4 x 45.5 x 39 cm
Boxing Quantity:24pcs/CTN